Lucky Punch
is the latest fitness concept of Chris Velkovski: an underground boxing and fitness club in downtown Zurich. A first mover in Switzerland that combines fitness inspired group boxing classes with a club atmosphere, where electronic sounds blast the monotony and stress of daily routines away, LED lights cut through the darkness and show the way to your next punch. Centrally located in uniquely designed studios and flexible subscription models complete the package. Feeling motivated? Following the COVID-19 pandemic, Lucky Punch is targeting to open its flagship studio in 2022.
It is a busy workday, but you are done with your work for today and it is time to head home. Streets are busy and the sky is darkening.
You mumble some words between you and yourself, about the stressful day you just had and start already lining up thoughts for the next day.
You start to notice you have been walking past your stop – aight, you have been lost in your thoughts and, for a second, aren't sure where you are. 
Nevertheless, you start to track back, but… a distant, pounding sound stops you for an instant – it catches your attention.

Initially uninterested and unsure, you press forward and inquire.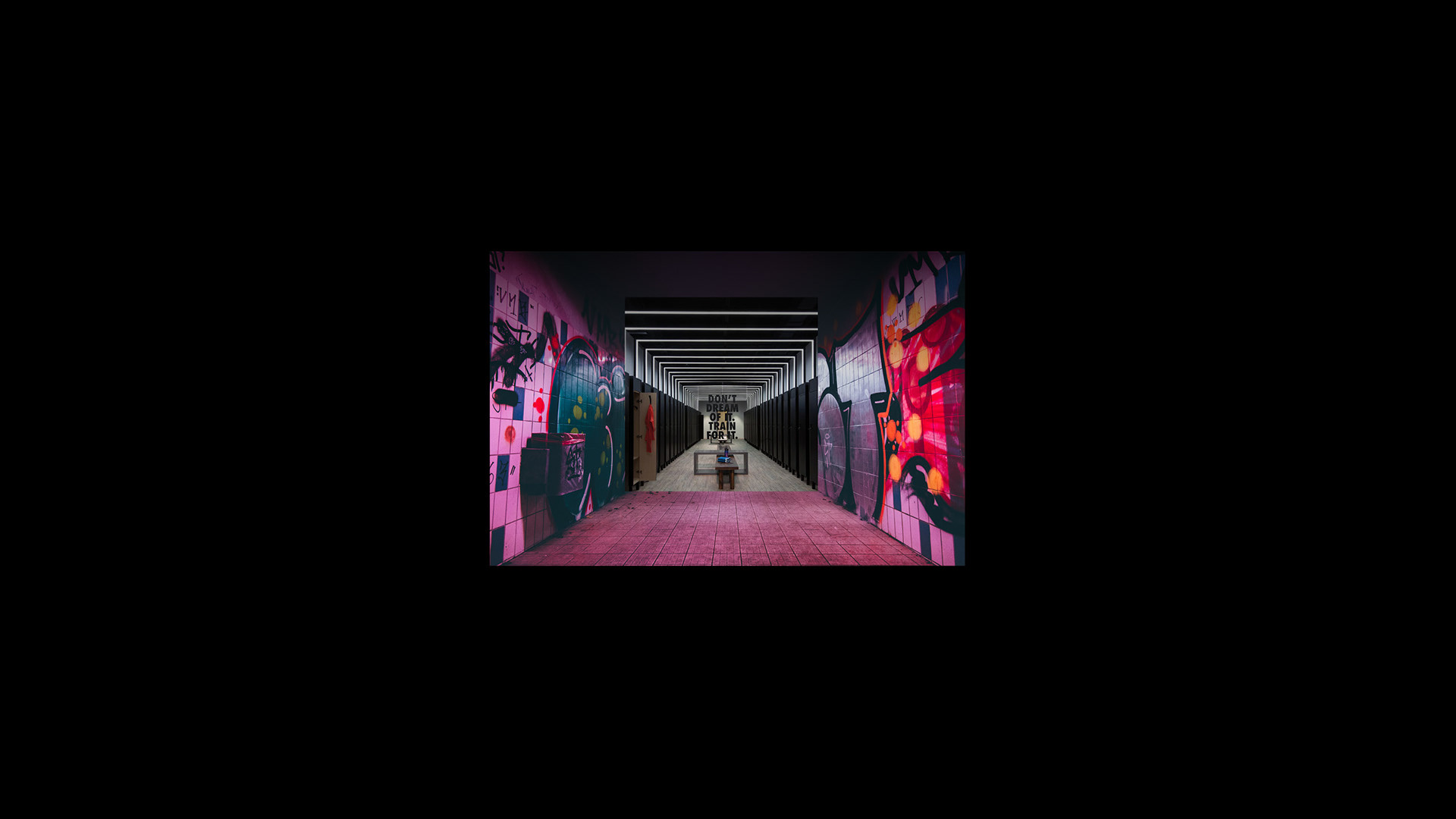 You start to make out the sound, it is electronic music, increasingly getting intensive. You end up in a club…? No, it feels like a gym, but not the kind you expected? 
The lightning infrastructure shines your way inside. You are now there: there are several people getting past by, it is packed, but not overcrowded. "Looks cool" is your first thought. Everyone sport a positive vibe and there is a certain energy in the place. A bit curious, you see a person in the corner, perhaps getting ready for what is coming. You ask "Excuse me, but what is this place?". The person raises her head, eyes ready to rock the stage, looks at you and say "Throw your lucky punch."
–
Focuses of the brand of Lucky Punch are high quality location and trainers, place to be and community. Lucky Punch is built to be different, great, fun, urban, atypical from your Swiss standards.
Two very distinct directions where considered for Lucky Punch (the above "Punk" and "Daft" variants), with a clear winner that went on to become what is the current visual identity. A series of different name were also considered,
Lucky Punch
was favoured and selected by the founders: the sound of it may come of as perhaps "feminine" or not as "stark" as other proposals, but Lucky Punch is intended for everyone and avoid to be unnecessarily edgy.
In order to introduce and present the concept of Lucky Punch, a concept video was realised by videomaker
Lukas Wellauer
. The goal was to show three persona (target profiles), a brief sneak peek of what the atmosphere of the club could be, the fitness inspired group boxing classes with aquabags and the concept of "let it all out". Of course, also tease a bit and check the hype level regarding the project.
Concept & Art Direction:

 Lukas Wellauer, Chris Velkovski, Vinh Pham Dang
Actors (in order of appearance):

 Beatrice B., Kevin L., Jessie M.
Concurrently to the video, a pitch deck presentation was developed to explain the concept in details and showcase the design direction of Lucky Punch. Please note that sensitive information have been edited out.